What is Community Engagement?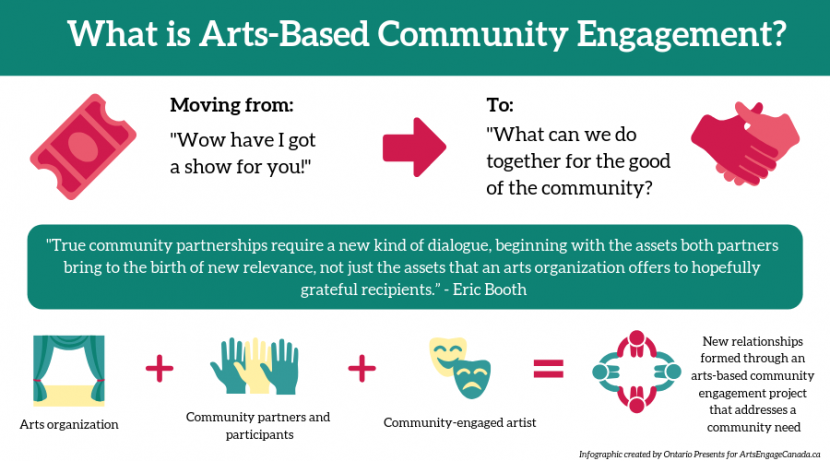 ArtsEngageCanada is dedicated to helping performing arts presenters and artists to understand and create community engagement projects.
Community engagement projects cannot replace ticketed shows and other outreach activities, but they are a first, essential step towards a new, increasingly collaborative relationship between the presenter and their community.
The term community engagement is often used to cover a wide range of outreach, engagement, and audience development activities. ArtsEngageCanada believes that in the most meaningful community engagement projects, presenters build authentic relationships in their community first. With their position as a community hub, presenters become a catalyst that enables the community, with a professional artist, to use an arts process to address a social issue or bring community members together.
The Process
While each one is unique, a community engagement project typically follows a process that moves from connecting with the community, to empowering community members to create on their own:
Inform
Let your community know of your interest in engaging more broadly in the community and your desire to connect to those who are not likely to engage with your organization in the traditional manner.  
Involve
Together, have a dialogue about how the arts might be meaningful in creating connections and or embracing issues.  Fully understand what this other organization wants to achieve through arts engagement. Identify and connect together all the different players who would be required to meet this aspiration.  
Collaborate
Make a commitment to collaboratively undertake a project that will serve the identified constituent group and achieve the described aspirations. Undertake the project with shared leadership, decision making and participation. 
Empower
After the project (or after several projects together), this partner organization may be empowered to continue arts engagement projects without your direct involvement.