Lifelong Arts: Virtual Conversation on Oct 30th
Ontario Presents is thrilled to be working with a cohort of 15 presenters and 15 artists across Ontario to develop projects and build a shared knowledge-based about community engagement through the arts.
Thanks to funding from the Department of Canadian Heritage, these artists and presenters are working to create small, community-engaged art projects in their respective regions. They are also coming together to share information and learn from each other as their projects develop. Click here to learn more!
We are pleased to be able to open select virtual conversations from this ArtsEngage Learning Community to the broader presenting community. With that in mind...
You're invited to Lifelong Arts: Community-Engaged Arts Through the Lens of Age, a virtual conversation to be held on Friday, October 30th from 1:30-3pm ET (the Zoom room will stay open until 3:30pm for further conversation). 
Our thanks to the Department of Canadian Heritage for their support of the ArtsEngage Learning Community!

For this first Spotlight Session, we have invited four wonderful artists to share their experience and host lively conversations about art & age. Come along if you'd like to chat about making theatre with children (everywhere, anytime!); designing projects for the whole family; creating welcoming experiences for people with autism, collaborating with parents, carers, teachers or healthcare staff, and more. See below for more information about our four speakers and the projects they are excited to share.
Spaces for this session are limited. To reserve your place, please natalie [at] ontariopresents [dot] ca (email Natalie Dewan) at Ontario Presents. First preference will be given to Canadian presenters and artists.
Details:
Lifelong Arts: Community-Engaged Arts Through the Lens of Age
Virtual Conversation
Friday, October 30th, 1:30-3pm ET
natalie [at] ontariopresents [dot] ca (Email Natalie) to register
Speakers: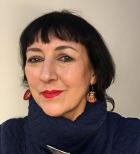 Elizabeth Lynch MBE, Creative Producer / Researcher-Evaluator (London, UK) 
Elizabeth is an arts producer, consultant and coach. She has pioneered and developed influential approaches to engagement and participation. She enjoys bringing artists, scientists and other specialists together with communities to share knowledge and skills and to explore and express ideas. She is especially interested in work that is experimental, questioning and difficult and that enables a variety of voices to be heard.
She recently completed the evaluation report for Age Against the Machine, a 3-week festival of Creative Ageing that featured over 70 events, from live music, theatre and exhibitions to talks, workshops and community events. Read it here!

Tom Carson, Executive Director, Smile Theatre (Mississauga, ON)
Tom has been working in theatre for over twenty five years as a director, producer/administrator, writer and teacher. He is a dynamic artistic leader and catalyst from performance projects that have reached audiences internationally. Tom has a special interest in work for vulnerable audiences, ranging from young children to adults in the special needs community, and to seniors, and those living in care. Read his full bio on the ArtsEngage website.
Since March, Smile has shifted all their activities online, and Tom is especially proud of Online Serenades, an interactive experience that brings joy, music and dance to people in Long Term Care Homes, Retirement Homes, Seniors' Active Living Centres, Rehabilitation Centres, and Mental Health Facilities.

Lisa Marie DiLiberto, Artistic Director, Theatre Direct & Balancing Act Canada (Toronto, ON)
Lisa Marie is the Artistic Director of Theatre Direct, a company dedicated to creating and producing work for young audiences, now in its 44th season, and the co-creator of The Tale of a Town - Canada, a multi-year theatre and media project that has toured to every province and territory. Lisa Marie is an Artistic Advisor for the National Arts Centre of Canada, an advocate for artist caregivers, a Dora-nominated director, and the proud mom of two wild children. Read her full bio on the ArtsEngage website.
Lisa Marie is delighted to share the Balancing Act project, an initiative led by Theatre Direct to support parents and caregivers working in the performing arts across Canada.

Rachel Marks, ArtsEngage participating artist, theatre educator and Relaxed Performance specialist (Delta, ON)
Rachel has been involved in all aspects of theatre, education and community organization and coordination. In 2009, she began a small theatre school in her rural community and developed it into a thriving enterprise of community theatre and summer camps with an emphasis on neurodiverse and disabled children and youth. As a Relaxed Performance Consultant, she has created inclusive environments for the Toronto Symphony Orchestra and the National Ballet. She is also Network Coordinator for SPARC (Supporting Performing Arts in Rural & Remote Communities).
Read an interview with Rachel on creating Relaxed Performance experiences for the Toronto Symphony Orchestra.